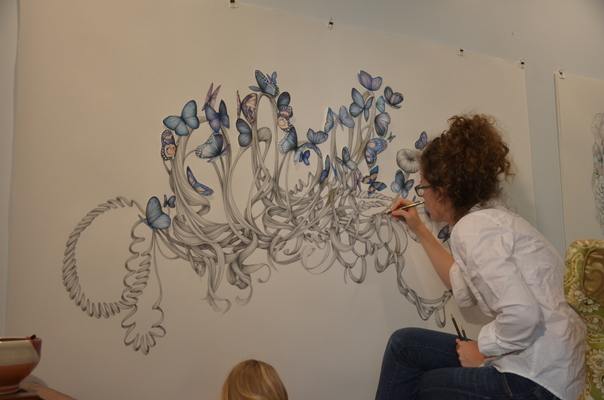 Artist, Art Educator and lover of Olives, Jillian hails from a downtown-less town called Darien in the great state of Illinois. She has traveled the world with a southern gent and loves the smell of her daughter's yogurt encrusted hair.
Jillian received her BFA from Bradley University in 2005 and her MFA from Clemson University in 2007. She is an internationally exhibited artist. In the summer of 2015, Jillian participated in the ArtVenice project which is a digital presentation of her work alongside other international artists taking place the first week of the 56th Venice Biennale in the centre of Castello. In 2012, Jillian represented La Galerie Particulier in the
Drawing Now
Exhibition held at the Louvre in Paris. Her work has been exhibited throughout the United States, including: Swarm Gallery in Oakland California, Thinkspace Gallery in Culver City, California, Antler Gallery in Portland, Oregon, and the Urban Institute of Contemporary Art in Grand Rapids, Michigan. Jillian's art has been included in publications such as, "The international Drawing Annual", "Hi-Fructos" and "Juxtapoz."
Oh, and the teaching! Jillian is an assistant professor in drawing and painting at Alma College. She has taught at: Elon University, Indiana University – Purdue University Indianapolis, Baylor University, Texas State University, The Art Institute of Austin, Clemson University and Interlochen Center for the Arts.
If you ever seen Jillian staring blankly at you, know she is most likely memorizing the curve of your eyebrows next to the bend of your glasses. Ya know, so she can draw it later.